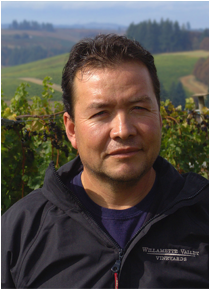 Efren Loeza
Vineyard Manager
It is hard to imagine, but it is true. Efren Loeza has been in the vineyard longer than the winery's founder, Jim Bernau.

Efren came by this unique distinction through Willamette Valley Vineyards' purchase of Tualatin Vineyards in 1997. Efren began at Tualatin in 1979 at 17 years of age and has worked in the vineyard and in the cellar ever since.

Even more surprising is that the person who taught Efren his first lessons in vine care is still working at Tualatin Estate. Jose Ortiz learned his skills from pioneering viticulturalist, the late David Foster. Jose and his brother Roberto Ortiz, Jose Espinosa and Efren's brothers Miguel and Marcos Loeza form a core vineyard staff with as much combined experience as exists in this young growing region.

Efren and his family now live on the estate, in the farmhouse built by the pioneering owners who first grew strawberries on its warm slopes. As Vineyard Manager for all of our vines from Tualatin Estate in Forest Grove to the Estate Vineyard near Turner, Efren has nearly 300 acres under his supervision. Most recently, he was instrumental in planting fifty acres of closely spaced Pinot Noir Dijon clones of 113, 114, 115, 667 and 777 on selected rootstocks.

Though Efren takes time for his family at the Oregon coast or playing basketball and soccer with his four children, he is devoted to the land at Tualatin Estate. His careful vineyard practices and stewardship of the land have earned LIVE and Salmon Safe Certification at both Tualatin Estate and Willamette Valley Vineyards.