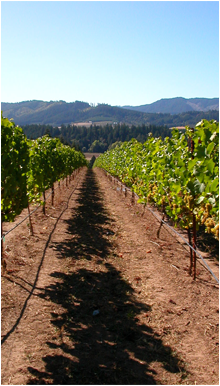 Tualatin Estate
Forest Grove, Oregon
Willamette Valley AVA
Tualatin Estate Vineyard, established in 1973, is one of the oldest and most respected vineyard sites in Oregon's Willamette Valley. Wine grapes from this 145-acre vineyard have produced world-renowned wines for over 40 years. Tualatin is the only vineyard to have won the Best of Show for both the red and white categories at the London International Wine Competition in the same year. Tualatin's Pinot Noir captured the Governor's Trophy, Oregon's most prestigious wine award, two years consecutively in 1994 and 1995. This is a feat unduplicated by any Oregon winery. Tualatin Estate Vineyard is proudly owned through a merger accomplished in 1997 with Willamette Valley Vineyards.

The name "Tualatin" originates from local indigenous people and means "gentle and easy flowing," referring to the local Tualatin River that meanders on its way to the confluence with the Willamette River. The site is located in the coastal rain shadows near Forest Grove, Oregon. It is planted with sixty-five acres of Pinot Noir, fifteen acres of Chardonnay, twenty-nine acres of Riesling, six acres of Gewürztraminer, ten acres of Muscat, and nine acres of Pinot Blanc. Our most recent plantings reflect the site's affinity to ripening Pinot Noir, with forty-five new acres planted to seven different French clones, all grafted onto phylloxera-resistant rootstock. The new plantings are spaced at twice the plant density of the original vineyard to improve vineyard ripening potential by limiting the crop on a per plant basis. This will yield wines that are more consistent from year to year as well as more complex structurally due to the clonal diversity.

The unique Laurelwood soil profile at Tualatin has also contributed to the complex nature of the wines.The top twenty-four inches is a distinct layer of well-drained silt loam deposited from a volcanic eruption of Mt. Hood nearly 10,000 years ago. This feature allows any excess topsoil moisture to drain away from the vine's feeding roots. The top layer is also riddled with deposits of unique, iron concretions called "pisolites" and are caused by the weathering of the minerals. Some say "pisolites" add more rose petal aromas to the wines produced from this soil. Below the topsoil layer is deep jory clay, which has a high water holding capacity to sustain the vine during drought conditions.