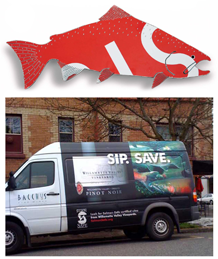 Hero of Salmon Award
Salmon Safe
In May 2011, Salmon-Safe recognized Jim Bernau of Willamette Valley Vineyards with the very first "Hero of Salmon" design award for the implementation of his high impact Salmon-Safe SIP•SAVE campaign in print, retail, web, and vehicle wraps. The award was first announced on April 15th at the LIVE (Low Input Viticulture Enology) annual meeting at the Northwest Viticulture Center in Salem, OR.

The physical award is a unique and one-of-a-kind, wall mountable, salmon sculpture created from recycled Oregon highway sign material.

Dan Kent, Executive Director of Salmon-Safe recalls, "The first time I saw one of those billboard-sized Willamette Valley Vineyards Salmon-Safe truck wraps on I-5 near Portland, I knew that we were reaching a new audience with a message about how wine growers our helping restore our salmon watersheds. Willamette Valley Vineyards has been a pioneer in moving the Oregon vineyard industry towards greater ecological sustainability over the past decade. The "Hero of Salmon" award recognizes their commitment to communicating their Salmon-Safe leadership to inspire even more agricultural and urban landowners to do their part to restore wild salmon."

Founded by Pacific Rivers Council in 1995, Salmon-Safe is an independent environmental certification nonprofit. Salmon-Safe has joined with LIVE to become a leading U.S. certifier of ecologically sustainable viticulture with more than 250 Oregon and Washington vineyards achieving certification. Salmon-Safe works to keep our urban and agricultural watersheds clean for native salmon to spawn and thrive.