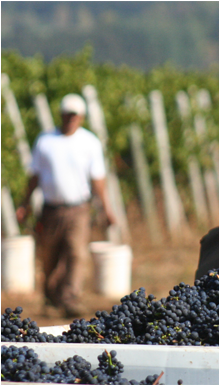 Elton Vineyard
Salem, Oregon
Eola-Amity Sub-AVA
In 2007 Elton Vineyards was named one of Oregon's top ten vineyards by Wine Press Northwest, and in 2006 Wine & Spirits listed it as one of the five key vineyards in the new Eola-Amity Hills American Viticultural Area.
Owned by Dick and Betty O'Brien, the vineyard was planted on land inherited from Betty's parents, Elton and Peggy Ingram – hence the name Elton Vineyards and the address on Ingram Lane. Upon the O'Brien's retirement in 2007, the vineyard was contracted under a long-term lease to Willamette Valley Vineyards.

The first five acres of wine-grapes were planted in 1983 by the O'Briens. The vineyard now includes sixty acres planted on east-southeast slopes of the Eola Hills, just west of Hopewell, in Yamhill County, in the Eola-Amity Hills AVA. The elevation rises from 250-500 feet, and the vineyard soil is primarily Jory and Nekia.

The majority of the vineyard is planted in Pinot Noir; including Pommard, Wadensville, 115, 777, and 114 clones. The vineyard also includes Dijon Chardonnay, Pinot Gris and a small amount of Grüner Veltliner grapes. Wines made from Elton Vineyards grapes, by several winemakers, have been rated in the 90s by The Wine Advocate, Wine Spectator and others. The Willamette Valley Vineyards Elton Vineyard Pinot Noir was first released in 2007.